Digital Marketing isn't going away. The more time people spend on the internet, the more important all forms of online marketing become, and the more attention businesses need to pay to digital marketing stats and trends. Marketing relies on being where your customers are in order to grab their attention - when they're online, that's where you need to be.
Based on the different types of digital marketing trends that have been emerging and strengthening over the past years and months, we've identified 5 key skills your business needs in order to succeed at digital marketing - all laid out in our infographic. Read on below it for more detail about each skill and why it's important...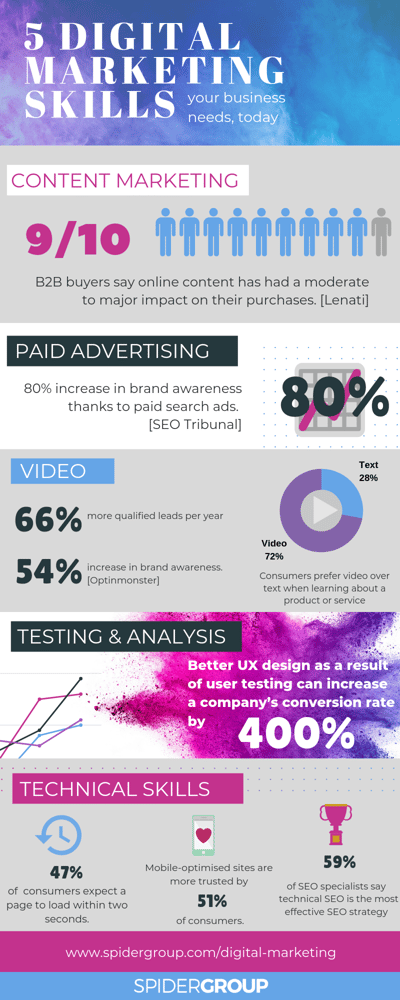 Content Marketing
9 out of 10 B2B buyers say online content has had a moderate to major impact on their purchases.
About ½ of all searches are four words or more.
Content creation leads to 434% more indexed pages than websites without updated content.
Content marketing is all about creating as many pathways around the web for customers to find you. The more content you have, the more chances you have to be found - theoretically, at least.
In practice, quantity will only give you those opportunities if it is combined with quality. Search engines are looking at the quality of the content you're providing in order to find the most relevant, useful, and authoritative results for people searching.
The more high-quality content you have, the more keywords your site will naturally rank for, and the more traffic you should get.
Content marketing is about more than search, though. It's also about converting customers who do land on your website from visitors to leads or customers. Your content draws them in and provides the context for their purchase. Content like ebooks and newsletters can nurture leads that aren't yet ready to buy.
Don't forget, content goes beyond blog posts and downloads, too. Videos, podcasts, infographics, images... they're all content. But more on video later. And you can't just publish your content and hope for the best - you have to promote it, too. We've talked before about what to do after publishing a blog post to make sure you get as much traction as possible.
Paid Advertising
Pay per click statistics have produced an 80% increase in brand awareness thanks to paid search ads. [SEO Tribunal]
PPC visitors are 50 percent more likely to purchase something than organic visitors. [Unbounce]
74% of buyers are influenced by social media when making a purchasing decision. [Sprout Social]
26% of Facebook users who clicked on ads reported making purchases [Spark Central]
If you want quick traffic to your website, paid advertising is the way to go. While content marketing takes time to develop and start generating traffic and leads, paid ads get you at the top of the search results in moments.
With Google (and Bing) ads, you get your details front and centre as soon as someone is looking for what you offer. You can pick your keywords, bid on competitor terms, set your budget, choose times of day or locations to target, and select keywords you don't want to show for. Then it's a case of tracking your conversions and tweaking your settings to get the best return on ad spend possible.
With Facebook, LinkedIn and other social ads, you've got powerful targeting at your fingertips. Want to only show your ad to women in their 20s who like vintage fashion? Done. Want to focus on mid-level managers in the construction industry? No problem. The key is choosing the right platform for the type of audience you're seeking, then creating eye-catching ads that appeal to that specific audience.
Video
87% of consumers want more video from brands. [Animoto]
80% of web traffic will be driven by video in 2020 [Cisco]
When text and video are presented on the same page, 72% of people prefer to learn about a service or product via video. [Wyzowl]
Video marketers get 66% more qualified leads per year and achieve a 54% increase in brand awareness. [Optinmonster]
The average user spends 88% more time on a website with video [Forbes, 2018]
The stats above pretty much speak for themselves - today's consumer wants to see video content. So, your business needs to be making videos. Simple as that.
There are different types of video you can make - from quick intros to longer product demonstrations, mini explainers to social media snapshots. The trick is getting into the habit of making them, publishing them and then, most importantly, sharing/using them!
You might not need a video specialist in-house, there are plenty of online tools to help with video creation, but you'll need someone with the creativity and vision to get them up and running, enough skill to use whatever tools you choose, and a little bit of budget to get you started.
Testing and Analysis
Better UX design as a result of user testing can increase a company's conversion rate by 400 percent. [Entrepreneur]
Microsoft Bing's revenue per search has increased 10 percent to 25 percent each year due to A/B testing. [Harvard Business Review]
There are plenty of blog posts, articles, and ebooks detailing the best way to get conversions on your website and landing pages. The thing is, not all of them work for every business or every offer. But, how do you know which will?
Testing.
If advice suggests moving a form from below the fold to above the fold, you don't want to just blindly do that and hope for the best. You need to test it - usually using a split test or A/B test. You run your test, then analyse the results, finding out if the change you made improved your conversion rates or not.
For some pages, an early form is ideal, it gets people to sign up straight away. But in some cases, people need more information before they give away their details. It's always worth testing before you implement changes.
Why should you care about all this? Well, SEO, paid advertising, and inbound marketing bring you visitors. There's a cost to all of those - whether it's the pay-per-click cost, or simply the cost of the time and effort involved in everything else. So, if you can increase the conversions on the website, you make more sales from the same level of time/money investment.
Technical Skills
Mobile-optimised sites are more trusted by 51% of consumers. [Google]
Speed matters. SEO stats for 2018 showed that mobile sites that take more than five seconds to load have 70% shorter viewing sessions that their faster counterparts. Furthermore, Google's research confirmed that even a one second delay can impact conversions by up to 20%. [Think With Google]
47% of polled consumers expect a page to load within two seconds. [Quicksprout]
59% of SEO specialists state that technical on-site optimisation is the most effective SEO strategy used. [Medium]
Search engine optimisation is about more than blog posts and keywords - as important as those are. There are also a lot of 'behind the scenes' activities that are vital to keeping your website ranking in search.
Those technical skills are hugely important - getting these elements wrong can make it difficult or even impossible to get the traffic and conversions you want from your site.
Mobile-responsiveness is no longer optional. Google prioritises sites that are optimised for mobile phones, even if a person is searching on a different device. Site speed is not only a ranking factor, a delay in loading time can also reduce conversion rates.
Tools like Structured Data and Tag Manager help search engines identify elements of your site more easily, or track visitor behaviour through to conversion with ease. If you're not using these tools, you're already a step behind many of your competitors.
If you don't have these skills in-house, it's time to start investing in your digital marketing department. If you don't have the resources or funds to bring in talented, qualified staff, outsourcing is the easiest and most cost-effective way to get the skills you need to grow your business without risk.