How do you find the right HubSpot partner to help your business? If you know that HubSpot is something you want to explore, but you want or need some expertise to get you up and running, or you want someone to manage your inbound strategy, you'll want to pick the right agency to help you out.
But with a variety of partners available, how do you find and choose the one that will be right for your business?
Where to find HubSpot Partners
The main way to find a HubSpot Agency is to use the HubSpot Partner Directory - it's where all of the HubSpot partners and providers can be found. You can filter the list to narrow down the results: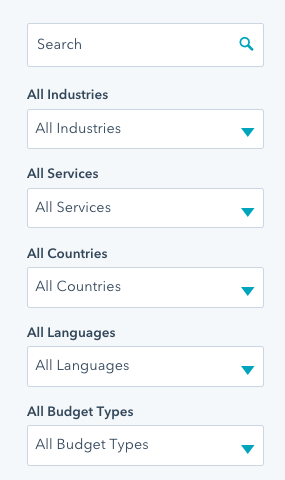 Use the Search section to look for a specific agency, or type in your city or town to see who pops up there.
You can also find agencies with a quick Google search - "HubSpot Partner Bristol" for example. Some will be ads, some will be organic results, so take a look and see who shows up for you.
How to choose a Partner
In most cases, you'll have more than one agency to choose from, depending on how specific your criteria were in the search. So, how do you know which provider to select?
Look at rating levels of the Partner - Gold, Platinum, Diamond all indicate that the agency is actively working with clients using HubSpot.
Click on their directory profile and see what they say about themselves. Have a look at the 'Certifications and Awards' section of the profile. This shows which of the HubSpot Academy certifications that partner has successfully achieved. For example, here are ours: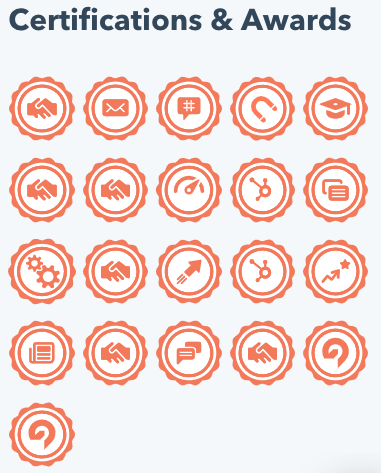 On the directory, you can hover over each of the badges to see what they represent. Oh, and they have to be renewed every couple of years, because digital and inbound marketing evolves quickly, so you know that the awards are fresh and current.
Take a look at their website and see what you think - not just about their HubSpot offering, but who they are overall. Working with a partner that you like and trust is an important element of any working relationship. But also look at the HubSpot resources they have available.
Shortlist a few partners and talk to them - either for a chat or invite them to make a proposal. Pay attention to the questions they ask you. When we speak with a potential client, for example, we're not focused on what we can sell them. We want to find out what their business goals are, where they're at now, how we might be able to help, what tactics would be necessary to get from now to the dream outcome.
Be open and transparent
When you're talking to potential agencies, the best thing to do is be open and transparent about what you need, where you are right now, and what you want to achieve. Don't shy away from telling us about your issues, challenges, goals, and plans.
You need to understand what you expect from an agency so that you can give us a brief that meets your needs - our goal is to help you achieve yours, so be up front about what that is.
If you're concerned about sharing information, ask if the agency you're talking to would be willing to sign an NDA (non disclosure agreement). We're always happy to do this - we want the best information so that we can truly understand your business and work out if we're the right fit. If they're not willing to, then it's time to move to the next person on your shortlist.
Questions you should ask
When you're talking to your potential partners, you should be asking plenty of questions too...
What elements of HubSpot are you proficient in? Do you offer support across Marketing, Sales, and Service?
What do you focus on? What areas do you specialise in?
How do you package your services?
What kind of results can we expect?
How do you measure success? What metrics do you report on?
What experience do you have?
How will we communicate during the project?
Why do you use HubSpot?
What are the potential timelines?
Who would I be working with?
What is your onboarding process like?
These questions give you a sense of the type of relationship you can expect, as well as how much they understand your business. Some of the questions they might not be able to answer right away, which you should be expecting - if you get a quick answer to questions 3 and 4, without time having been spent digging into your goals and current activities, you should be very cautious.
Oh, and if you have questions about HubSpot specifically, you should expect them to be able to answer them - or at least know where to find the information (if you have a particularly challenging or unique question).
Look into packages and services
Some agencies package their services and others don't - there's no single right approach, so look into the different options and see what suits your business best.
For example, we don't have set packages - instead, we work with you to find out exactly what you need to achieve, then track that back through the entire funnel, to figure out what tactics will be necessary to achieve those goals. Then we put that together in a bespoke service for you.
This works for our clients, because they know they're getting exactly what's designed to meet their goals and nothing that isn't. We select from an entire suite of possible services to combine into a custom plan.
Some agencies offer set packages, with specific services defined as part of that package, sometimes with bolt-on options for extra services. This also works for plenty of businesses - as we say, there's no single approach that's the one true way.
Talk to different agencies and see what they offer and how they package or customise their services. See which seems like the best fit for what you're trying to achieve.
How committed are they?
Find out if the agencies you're talking to use HubSpot themselves. How extensively do they use it? What areas of the business are integrated? Have they bought any of the extras, like the reporting add-on?
If you want an agency that truly knows HubSpot inside and out, you want them to walk the walk. For example, we use HubSpot across our business - our sales team use Sales Pro to manage their entire process. Our marketing team use Marketing Pro to run our inbound and digital marketing. Our management team use the extensive reporting and dashboards.
Oh, and we redeveloped our entire website on HubSpot CMS, too. It's fair to say we're fully bought into the system! Not only does this mean we walk the walk as well as talk the talk, it also means we're embedded in the system so we can share insider tips and tricks with you along the way.
The HubSpot Solutions Partner Program
If you're interested in HubSpot and have been looking for a partner agency, you might have come across a few changes to the Partner Program.
Early in February 2020, HubSpot announced that it was relaunching former Agency Partner program, with a couple of key differences...
It is now "The Solutions Partner Program", making it easier for customers to find the right providers for your needs. It also means that different types of agencies, who perhaps offer web development or CRM implementation, to help customers who aren't looking for marketing support.
Why has it changed?
HubSpot is a company that keeps growing and evolving - over the past decade, the software, services, and opportunities have developed and diversified. With that, the agencies in the partner program have similarly evolved and developed.
We're excited to be part of this change, as a Solutions Partner we can help businesses across the whole scope of HubSpot services, focusing on Business Growth rather than simply marketing.