It's pretty clear if you've been here before that we're not only HubSpot Partners, we're also genuine advocates of the platform. So, we thought we'd round up some of the more under-used features of the platform to help HubSpot users, and those just considering the system, get more out of it. Consider them your time-saving or productivity-boosting HubSpot hacks.
Block 'free' email submissions
Are you tired of people signing up for a free trial and then realising that they're not a business user but instead someone who will never be a real lead? Are your competitors downloading your high value content?
Did you know you can prevent this?
Yep, and it's quite simple to do. You can prevent certain email addresses from being used to submit your HubSpot forms (including pop up forms you might use).
All you have to do is go to Marketing > Lead Capture > Forms. Then pick the form you want and click edit. Within the forms editor, select the email field and scroll down the edit options until you see this:

You can put in specific domains - like those of your competitors, for example - or choose to block HubSpot's list of free email providers.
As you do this on a form by form basis, you can choose to make certain things available to those addresses but not others - so you might be happy for everyone to access your ebooks, but only business email addresses to be able to sign up for a demo or free trial.
Marketing Automation
Let's say you have 1,000 people in your database. Maybe they've heard from you a few times - through sales outreach or maybe email marketing (depending on their permissions) - or perhaps they only really know you from LinkedIn.
Now imagine that they come to your website and have a look at a specific service page, or a type of service you offer.
And now, imagine that they got an email shortly afterwards, saying:
"Hi [name], how're things? I wanted to check in with you to see how you were getting on at [their company]. Did you know we have a [webinar/ebook/post] about [topic they were looking at] that you might find interesting? We've been speaking to a lot of business who are struggling with [that topic] lately, and we've got some great advice to share. I'd love to share some of those findings with you if you have a moment..."
And so on.
Did you know you can create an automation to do exactly this from within HubSpot? You don't have to go back through all of your contacts to see if they've been looking at your site, you just create a workflow and everything is done for you.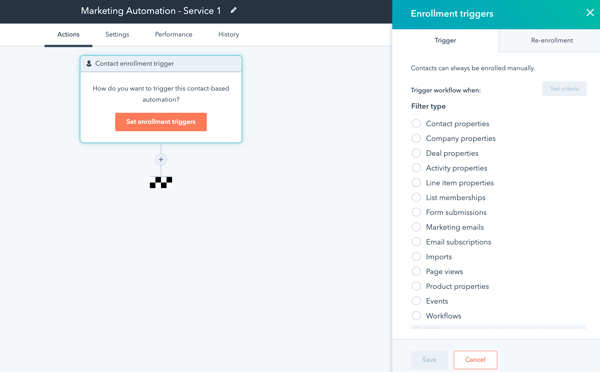 You just select "Page views" from the list of triggers to kick off the workflow, and add in the appropriate url(s). You might want different ones depending on the type of page they looked at. Then you add a step with an email (don't forget to include personalisation tokens), which is sent automatically as soon as the workflow is triggered.
You can even refine the trigger by number of times they've looked at that page. So, perhaps you set up a workflow that triggers when someone has looked at your pricing page more than once. Instead of an email, you could even send a notification and a task to the contact's owner to call that prospect asap.
Meetings
This is a great timesaver and all you have to do is link up your calendar to HubSpot. Then, instead of emailing back and forth to try and get a meeting in the diary, you send your meeting link and your contact can book a time that suits them directly into your calendar.
It's available in the free CRM, but the real benefits kick in once you're on one of the paid Sales Hubs. In the free version, you can have one meeting link, whereas the paid hubs give you up to 1,000.
What does the customisation look like? Well, you can have different types of meeting with different times associated with them, you can choose what hours in your diary you make available (you might want to exclude Mondays, for example), and you can choose how much notice you require and how long a gap is necessary between meetings.
We have meeting links for specific combinations of people - so I can send a link for someone to book with me plus James, or me plus our Digital Account Manager, and so on.
We can even embed the meeting calendar on a specific website page, so that you don't even need to email the link. For example, if you click the banner offering a 30-minute free HubSpot audit, you'll go to a page where you can directly book that time in my calendar.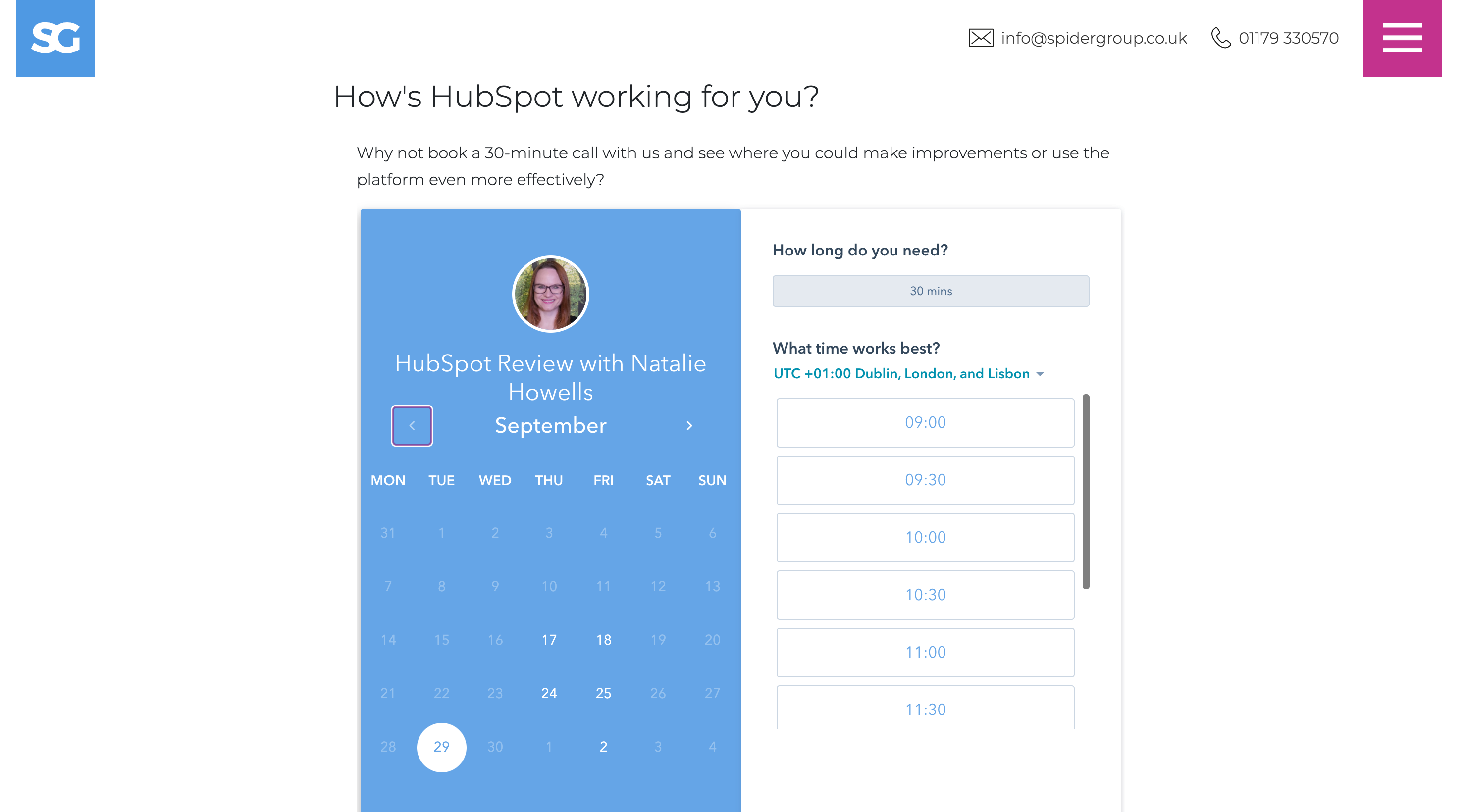 You can use the link in outreach emails - so instead of asking someone to get back to you with times they might be available to talk, you include your link and they can book at their convenience.
Snippets
Talking of emails - do you often have to write the exact same text in email after email? Cool - make it easier with Snippets. They come under your Conversations tab and give you a super easy way to save a section of text that you need to use over and over again.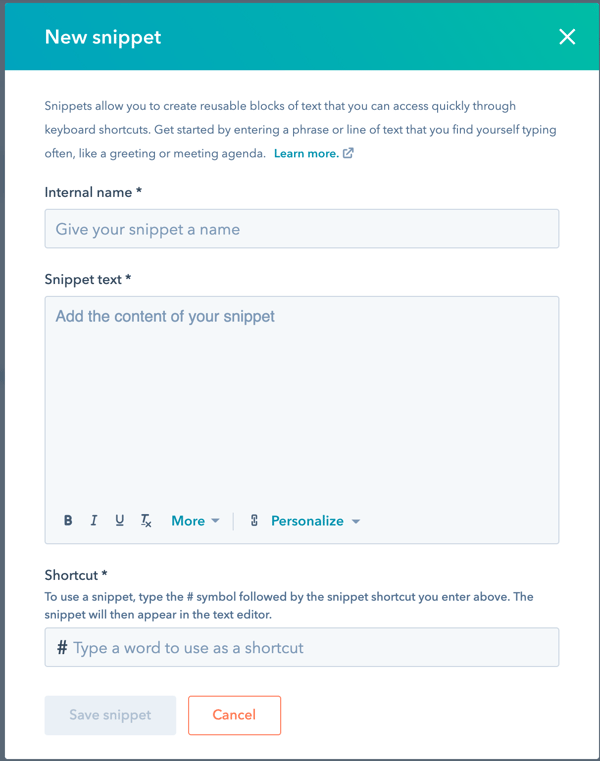 As you can see, you create a shortcut so that all you have to type is your hashtag and it'll auto-populate with the text from your snippet.
Good ways we've seen this used include sharing your working hours if you're non-standard, linking people out to your terms and conditions, including a disclaimer, or sharing timelines. It's great for sales, finance, and account management functions in particular.
While you might use Templates to send the exact same email each time, snippets are great for inserting standard text into any email - you might only want to send the link to your terms when sending a quote, for example, rather than every email. So, you'd have a shortcut like #terms, and pop it in each time you send that type of email.
It saves rewriting, or finding an old email to copy and paste from.
Task Queues
Task queues are a fantastic way to streamline and manage your selling time. As HubSpot put it:
"Imagine a world where you never have to leave your to-do list, where you never have to manually schedule your next follow-up, and where you never have to click into every CRM record to figure out what to do next."
That's where Task Queues come in. They're essentially the To Do List for your sales reps, but in a way where everything is in one place. Let's look at an example.
You're trying to do a deal with Wayne Enterprises. You create a task in their company record to follow up with their team.
So, you've got some tasks in your queue. One is to call Mr Fox and one is to follow up with Wayne Enterprises.
You start your queue and you're taken to the calling tab within Mr Fox's contact record. You make the call, it's automatically logged, the task is automatically completed, and you're taken directly to the emailing tab on Wayne Enterprises' company record - the next task in line.
You don't have to click from one screen to another, go back to check what your next task is, or find the contact in the database. Everything is in front of you as you need it.
If your team needs to make a lot of calls, and they have scheduled calling time, having a calling queue means they just go straight from one contact to the next, no messing around. It's super streamlined and saves a bunch of admin time.
You could create a queue for your highest priority targets, or for account follow ups, or deal chasing. When you create a task just choose which queue to assign it to (you can create a new queue here, too).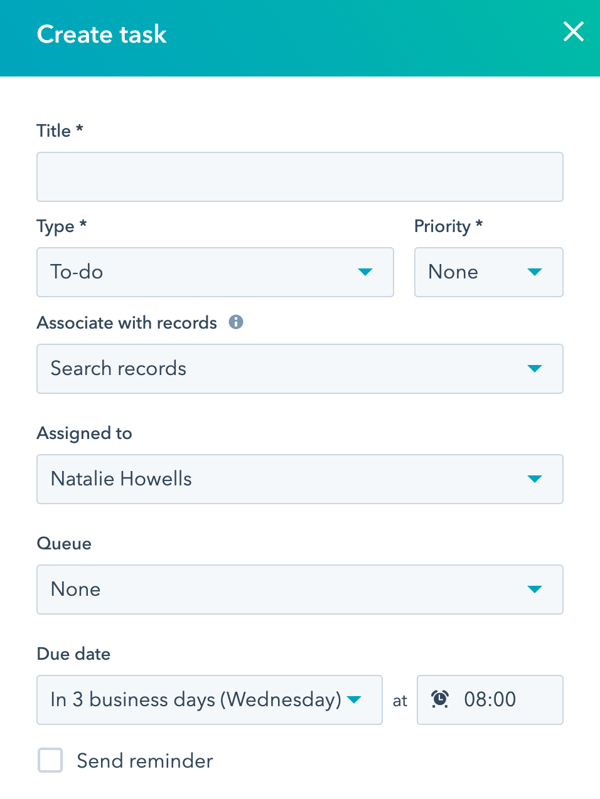 Filtered Views
When you want to see how many contacts fit certain criteria, do you use Lists or views? Many people use Lists, but sometimes a filtered view is a better option.
As a default, when you go into Contacts you see these options:

But you can filter your views in as many ways as you'd create lists.
Let's say I wanted to see all of our contacts who are not currently in a sequence, and also haven't been contacted since July.

I'd click on "more filters" and select the filters that give me that information: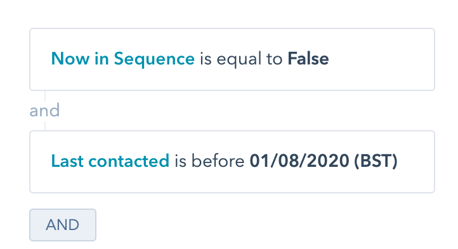 I might add another filter to see who fits those above and is also a Marketing Qualified Lead - because if someone fits all three, then we need to be getting in touch with them to check in!
Or I could choose to filter by Form Submission to see who has filled in specific forms on our website. Or maybe I'd like to see who has filled in our HubSpot Bootcamp form and has submitted a form to download an ebook about HubSpot Integrations - because then I know they have a deep interest in HubSpot and could be worth nurturing.
I could do all of this in lists, but unless I need to send a marketing email out to the entire list, I often find the views to be quicker and more flexible. We can also create tasks, or reassign contact owners from the view directly, and enroll up to 50 people into a sequence from here, too, so it's a pretty helpful way of viewing your data. And you can save a view to come back to it as and when you need to.
We've got a whole other post on other ways to customise your HubSpot CRM. So, if you want even more hacks, check out that post.
Smart CTAs
With HubSpot's CTA tool, it's super easy to create buttons and image CTAs to help visitors move through your website and take the next step.
But Smart CTAs take this a step further and allow you to change up your CTAs based on the visitor's activity. When you've created your simple CTA, click the "create smart CTA" button at the bottom of the window and you'll move on to this screen: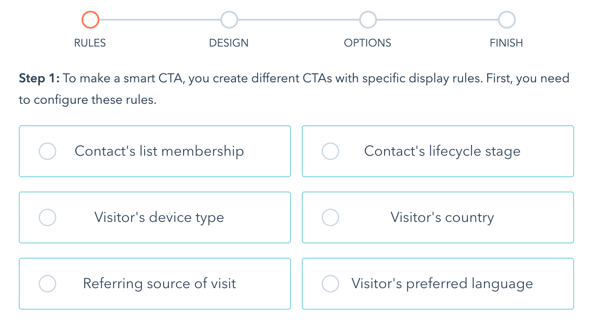 So, if you want to show a different message to SQLs than MQLs, or you have a specific list of people you're targeting with certain offers, you can choose the most appropriate CTA. With "referring source", you can choose different CTAs for different places your visitors may have come from.
Let's say you're running a campaign for people to book a free demo. And on social media it's referred to as a demo, while on your emails it's called a consultation. You could change up the wording of your CTA to match the link the visitor clicked on - creating a much better user experience.
Once you've configured the rule, you go back to your original CTA and change it as you see fit. Save it, and you'll have two versions - and you can add another smart version, and another, as you need to.
Copy Company Values to Contacts
If you find yourself cross-referencing information from your Company records and Contact records, this is a great HubSpot CRM hack for Pro users.
Use a workflow to copy information across from one to the other so you have everything all in the right place.
Let's say you have a contact with no phone number. If the company record has a number, you can trigger an automation for the contact, with the filter "phone number is unknown" and then choose "Copy company property value" as your next step.
You can do this for any company property value that you want to share information with contacts.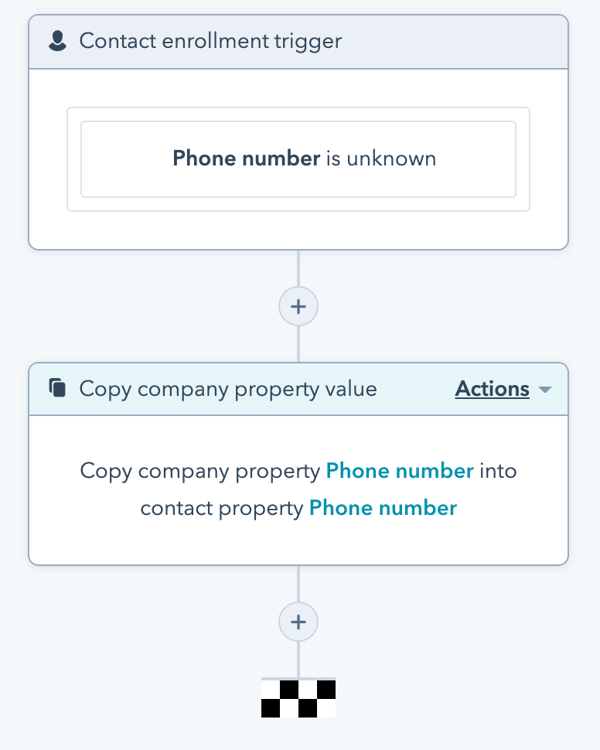 Track Competitors on social
Competitor research and awareness is important, especially as part of your inbound marketing, but really for any kind of digital presence.
With the "Competitor Stream" tool on HubSpot, you can pick your 3 main competitors and see how well their social posts are performing. You get a feed of all the posts across Facebook, Twitter, and Instagram, along with engagement rates and total engagements.
Check out what's performing well, and learn more about how to engage your own audience. Handy.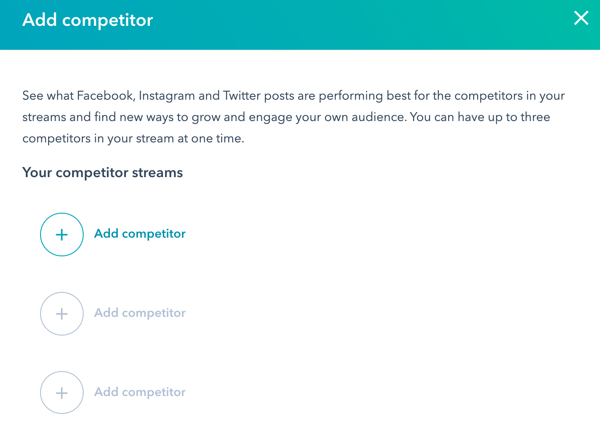 This in addition to the other streams you can create, like social listening or retweets.
So, which of these tips do you think you're most likely to try out? If you need help with any of it, just let us know - we're here to help.