You've experienced it before - you sign up for some software and all of a sudden there are some costs you weren't prepared for. So, before you get into anything else, you want to know for sure what to expect, and what may or may not crop up.
HubSpot pricing can be slightly confusing - we've got a HubSpot pricing guide here to help, which talks you through the different tiers and how much they cost. But what about hidden costs you might not expect.
HubSpot Onboarding
If you sign up for Marketing Professional or Enterprise, you will have to pay for onboarding. If you go through a HubSpot Partner, you'll most likely be paying them for onboarding, but if you buy directly from HubSpot, the cost of Onboarding will automatically be added to your quote.
The reason for this is that Pro and Enterprise are big, powerful tools that it can be difficult to get the most out of if you're not experienced in setting up (plus inbound marketing is about more than software). By having onboarding, you're much more likely to get the most out of your investment.
The one-off Professional Onboarding fee is £2,450, while Enterprise is £4,900.
The other hubs - Sales, Service, CMS, and Operations - don't have an onboarding requirement, and nor does HubSpot Marketing Starter. So, it's not an inevitable cost, but it's definitely one you should be aware of if Marketing hub is what you're after.
Contact Levels
It's not so much a hidden cost, as one you might not necessarily be expecting, and that's the price for the number of contacts in your database. Each tier comes with a set number of contacts included, then you pay extra for additional ones.
HubSpot have recently changed the way this pricing works - it used to be that you paid for all contacts over your tier's allowance. Now, you only pay for contacts that you want to market to. So, if you have historic contacts, or customers you don't market to, or sales-only contacts, you're not paying extra for them. In fact, you can have up to 15 million contacts free, as long as they're non-marketing contacts.
The reason we say this isn't a hidden cost (though it can still catch people out) is that there is a pricing calculator on the HubSpot Pricing page, where you put in your contact numbers and see how that affects the cost.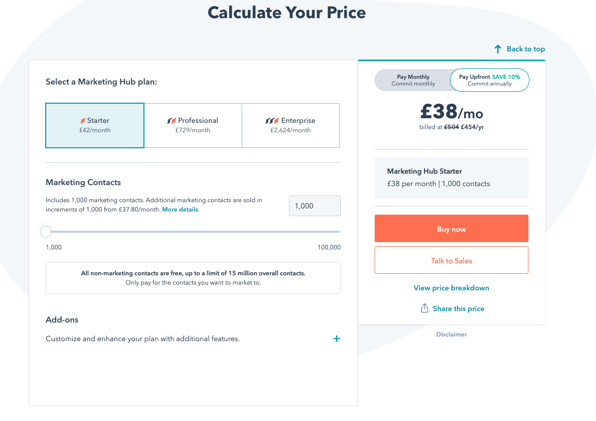 You choose your tier and then slide the bar to show your database size, and all of the pricing is upfront.
If you go over your tier limit, you'll have to pay for additional contacts, so it's helpful to keep an eye on your database and keep it tidy, so that you're only paying for relevant and worthwhile contacts.
If you do go over your limits, you'll be charged at your next billing cycle (based on the number of contacts approximately 45 days prior to that bill). So, if you pay annually, you can spend most of the year with hundreds or even thousands of extra contacts, as long as you clean up a couple of months before renewal. However, if you pay monthly, there's not enough time to enjoy this loophole, so you'll want to stick to your limits or purchase more marketing contacts.
Number of Users
While the HubSpot CRM and Marketing Hub, at any tier, come with unlimited users, the same is not true for Starter and Service Hubs. With these ones you get a limited number of users included in your tier - if you need more users than that, then you'll need to budget for the cost of those extra seats.
Starter comes with 2 users, additional users are £19 per month
Professional comes with 5 users, additional users are £60 per month
Enterprise comes with 10 users, additional users are £98 per month
Everyone still gets access to HubSpot's free features, but you need paid seats to be able to use meetings, sequences, playbooks, calling, rotating incoming records, conversations, and so on.
Reporting is available to free or paid users, so it's generally Sales Reps, Service Agents, and those undertaking operational tasks that need paid seats.
Transactional Emails
If you're an ecommerce business, you'll need some features that don't come as standard with HubSpot. The main one being Transactional Emails. These are things like password creation, abandoned baskets, receipts, and account updates.
This is available as the "Transactional Email Add-On", which costs £492 per month.
Additional Brand Domain
If you want to host your content or website on an additional brand domain, you'll need to be using CMS Hub Enterprise, or purchase the Brand Domain Add-On, for £570 per month.
You get one root domain as standard, and if you don't have CMS Enterprise, you'll need the add-on to add any extra.
Further Add Ons
We've mentioned a couple of add-ons above, because they could trip you up if you were expecting that functionality or option to be already part of your HubSpot subscription. The following add-ons aren't really what we'd call hidden costs, but they may influence your decision about the pricing, so we've included them for completeness.
Ad Limit Increase
You have ad spend limits for campaigns that you manage through HubSpot - $10k for Marketing Pro, $30k for Marketing Enterprise. This add-on increases your spending limit by $50k and costs £80 per month.
Custom SSL
Professional and Enterprise versions of Marketing, Service, or CMS Hub come with a standard SLL certificate. You can get additional customisation, if necessary, with a premium SSL service for £80 per month.
Reporting Limit Increase
There are limits to the number of dashboards and reports you can create, based on your tier, for example:
Marketing Starter: 10 dashboards, 10 reports per dashboard
Marketing Pro: 25 dashboards, 20 reports per dashboard
Marketing Enterprise: 50 dashboards, 20 reports per dashboard>
Plus you can get 100 custom reports in Pro and 1,000 in Enterprise.
The Reporting Add On increases your dashboard limits by 300 and create an additional 3,000 custom reports, for £164 per month.