It's Day One of INBOUND 2020 - HubSpot's big event of the year, and there's so much going on that we'll try to round up some of the key areas for you to know about!
So, here's what we learned from day one of Inbound.
Custom Objects
Custom Objects now available in beta across Enterprise! This is the big one - it makes HubSpot suitable even for complex organisations that previously didn't have the customisation needed to include all of their data.
Custom objects allow you to store any data in HubSpot, and they work like the native objects (Contacts, Companies, Deals, and Tickets). This means you can
Use custom object property values as personalisation tokens in emails
Report on the custom object records
Enroll custom object records in workflows
Filter views by custom objects
Bulk edit
You could use them for Contractors, Projects, Subscriptions, Contracts... pretty much any data you can think of that you need to store in your CRM. HubSpot have a longer post about this - check it out here.
Workflows
Workflows are an amazing tool - we use them for a whole bunch of things, like sending notifications when a prospect engages, sending out emails based on form submissions, and updating records.
So we were definitely excited for the session on Workflows and all the new (or previously unnoticed) features.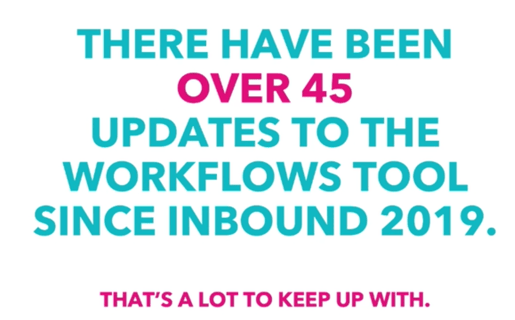 In the session, we went through 18 of those updates, across three main areas.
Saving Time
Multiple If/Then branches - add up to 20 branches to an if/then branch - this makes it much easier to manage and update workflows
Clone and reorder if/then branch conditions - ideal if something comes up that would change your workflow and you don't want to redo the whole thing!
[coming soon] Clone/move workflow actions to make for a much more efficient workflow-building process
Go to other action - you can rejoin branches when they end up with the same outcome after branching off rather than duplicating actions as they become relevant to the branch again.
Bulk delete workflows that are out of date or no longer relevant - this combines very well with the next point...
Unused workflow tab - find workflows that haven't activated in the last 90 days and aren't part of another workflow - perfect way to locate those workflows that it's time to delete. If you had an event-related workflow, for example, it's probably not one you need hanging around forever after the event has finished.
Improving processes and communication
Sync contact or company timeline activity to workflow-created deals and tickets - previously you could only do this when you manually created a deal.
[coming soon] Workflow partitioning - separate workflows by team and provide access only to the workflows they need (so people can't change things they shouldn't)
Workflow history - see workflow revisions so you can see what changes were made, who by, and when (so you can fix changes that have been made without thinking through the consequences)
Add comments to workflow actions - you can use them to add context and explain actions within the workflow, give justifications for delays, or just ask questions of others working on that workflow.
See objects in a delay and how much time is left in the delay - so, if a company or contact is in the delay phase, you can see how much time it will be before the next action in the workflow happens.
Export an image of a workflow - share with others who might not have access, or scribble on it to think it through if you like to plot these things out on paper.
Providing the best experience
Control merged contact enrolment - you can avoid re-adding people to workflows that they've already experienced when the merged contact now meets the trigger criteria again
Delay until a specific day or time (to avoid executing on nights or weekends) and use the contact's timezone so that events happen when they'll be most effective.
Delay until event happens - trigger next action once an interaction happens, rather than being time-based.
Phew... that's a lot of updates to the Workflows tool!
While you're here, why not check out our post about how to use HubSpot workflows and get even more tips.
Marketing Hub
Marketing Hub has had some amazing updates since Inbound 2019, which we'll whizz through here.
ABM - Account Based Marketing
ABM is all about sales and marketing working together. There's a whole new set of tools across Sales and Marketing Hubs, including:
Buying role contact property
Target account company property
Customer profile tiers
A "Target Accounts" home where you can keep track of your activities
Target accounts reporting, along with other ABM reports
ABM Contacts Lists
Workflow templates
Account-based selling playbook template
So, there's plenty to get stuck into. The Target Accounts home is a really great view.
Personalisation
Did you know 80% of people are more likely to purchase when you offer a personalised experience? Coming up is advanced personalisation - we don't have a tonne of information yet, so watch this space.
Reporting
Connected data means every marketing interaction is understood and can be optimised. Today we learned about a brand new custom report builder, which pulls in even more data than ever before. Custom reports can be run on every object and event, with a whole lot more flexibility and data than previously.
Sales Hub
Sales Hub Enterprise is pretty immense - just take a look at what was discussed today:
Field level permissions on properties to protect the integrity of your data plus custom layouts for different teams
AI - auto scans email signature to pull info straight into CRM
Enhanced configure price quote - quotes more customisable and product library more robust
New set of accounting APIs and integrations to create invoices and connect with your accounting system of choice
Sales analytics - rich insights into health of pipeline
New sales forecasting - dynamic forecasts that won't compromise accuracy
Rep view - hone in on individual performance for coaching - this is a great tool for sales leaders and managers who want to coach the team most effectively
That's just day one - can't wait to see what we find out tomorrow!