If you're using both HubSpot and Microsoft Office 365, here are some tips on making these two core business systems to work together.
Single Sign On
Rather than having a separate password for HubSpot and Microsoft 365, you can enable single sign on in HubSpot. This will allow users to sign in with their Microsoft Office 365 credentials or skip sign in altogether as there is a good chance your users will already be signed into their Microsoft 365 accounts.
Single sign on also makes off-boarding staff simpler, as you only need to remember to disable one account. It also allows your teams to use Microsoft's built-in multi-factor authentication, offering enhanced protection for your data.
HubSpot has published a helpful guide to get single sign on set up for your business.
Quick access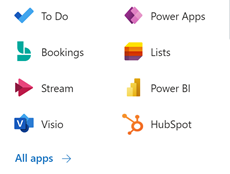 To save people from having to remember or bookmark another website address to access HubSpot, you can add it to the Microsoft 365 quick launch waffle, right alongside their email, SharePoint etc (as pictured).
You'll need to have administrator permissions to set this up - simply go to the Microsoft 365 admin console, navigate to 'settings', 'Org Settings' then 'Organisation Profile'. Or just click here to go right there.
Once you're in the right spot select 'Custom App Tile Launchers' and add a new tile. If your teams use the web interface to get to all of their apps, this shortcut not only makes it easier to find HubSpot, it helps you emphasise that HubSpot is one of your core business systems, which can improve employee engagement.
Outlook plugin
The HubSpot Outlook plugin enables easy tracking and logging of emails to HubSpot from the Outlook application.
This way, emails sent from within Outlook or Outlook for the web are captured in your CRM, so people don't need to send emails directly from HubSpot in order for them to be logged. It's another way to ensure that your activities are pushed into HubSpot without manually doing everything, helping increase uptake and improve your data.
You don't even have to rely on users to install the plugin themselves - you can push it out to all your users at once, ensuring they have the functionality in the Outlook client as standard.
As above, you want to go to settings, but this time choose 'Integrated apps'. From here you can configure who in your business will have the HubSpot Outlook plugin installed automatically.
You can find out more about the plugin and what it can do on HubSpot's help page.
Manage shared mailboxes
If you have busy shared / team email mailboxes, often used for things like Sales or Accounts departments, you may have found it challenging to keep track of which emails have been actioned or responded to.
By connecting the mailbox to HubSpot you can manage all incoming emails directly in HubSpot. This makes it easy to assign emails to staff to be actioned and to track who said what.
Plus, everything is accessible to everyone, so it's easy to keep track of what's going on and easy to add or remove users from a mailbox as necessary.
You can even take it a step further by enabling HubSpot's email AI automations. Workflows can allow you to rotate new emails between team members, if you don't have one person responsible for administering the account, again making it easier to ensure all emails are properly actioned.
Get notified
When you set up your HubSpot notifications, they can come through the application itself, via email, or through Microsoft Teams.
Enabling the HubSpot app in Microsoft Teams will ensure you never miss a notification - they'll pop right up in Teams chat and you'll be able to jump directly to the right place in HubSpot and take any action needed.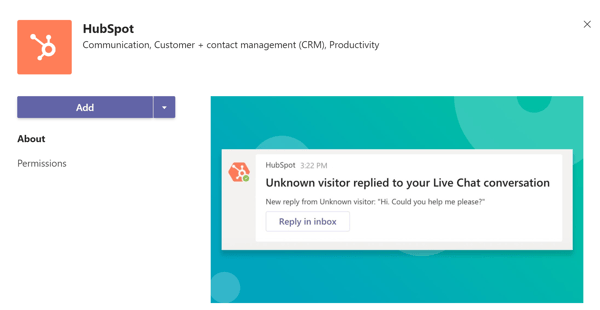 This is great for sales teams, who can get notifications of new tasks, contacts, or deals that they have been assigned. It's also handy for marketing teams, who might want notifications of campaign activity.
With the notification in Teams, users can then create a Microsoft Task or Reminder, from within teams, by clicking on the three dots (sometimes known as the 'meatball menu') and selecting More actions. All of this makes it easier to integrate HubSpot with your general ways of working.

Sync your calendar
When you are using HubSpot to communicate with customers and leads you'll often need to book meetings with them. Synchronising your Microsoft 365 Calander with HubSpot will ensure you don't miss an appointment or double book yourself, as they'll appear in your Outlook Calander alongside all your other appointments.
The meetings link generated by HubSpot will only show times you're available, so you don't have to worry about someone booking in a time that you're already busy. And you can set parameters for how people book meetings with you - including things like how much notice you want or how much buffer time you want to keep free between meetings.
If you have a Zoom account, you can integrate that with HubSpot so that your meeting link will automatically create a zoom meeting and include that information in the invitation that goes out, making everything completely streamlined.
Getting Help
We're experts in Microsoft 365 and HubSpot here at SpiderGroup so if you need any help or want to know more please don't hesitate to get in touch.