Microsoft's technology conference, Microsoft Ignite, took place from 4th to 8th November 2019 in Orlando.
With thousands of sessions, the conference featured the huge range of technology Microsoft has to offer, celebrated customer successes, announced new innovations, and provided a look at what the future could offer!
The conference kicked off with a vision keynote from Microsoft's CEO himself, Satya Nadella, along with other visionaries.
At the core of the conference was Microsoft's mission:
"To empower every person and every organisation on the planet to achieve more."
We've created a brief overview of the key points and announcements from the keynote below, but if you would like to watch it in full, you can find it here:
https://myignite.techcommunity.microsoft.com/sessions/77831?latestplayer=true
The Tech Stack
The keynote explored the Microsoft Tech Stack, from the bottom to the top, and the openness through every layer of the stack.
The Microsoft Stack consists of:
Microsoft 365
Dynamics 365
Power Platform
Developer Tools
Trust
Azure
Microsoft Azure
https://azure.microsoft.com/en-gb/
It is predicted that there will be 50 Billion connected devices by 2020, and over 175 Zettabytes of data by 2025.
It is to meet these needs that Microsoft are building Azure as The World's Computer.
Microsoft have 54 Azure data centre regions and, with sustainability being of paramount importance, this Summer they launched a new data centre design that is zero-waste using 100% renewable energy. It will be rolled out in Sweden and will spread throughout every Azure region.
Microsoft are also extending Azure Edge technology with the announcement of Azure Arc and Azure Synapse Analytics.
Announcing Azure Arc
https://azure.microsoft.com/en-gb/services/azure-arc/
With Azure Arc, Microsoft are redefining hybrid, enabling the deployment of Azure services across multi-cloud, multi-edge environments.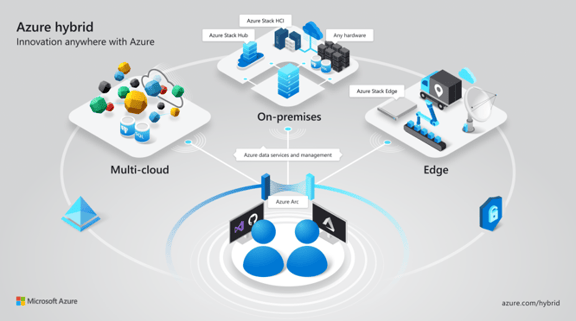 Announcing Azure Synapse Analytics
https://azure.microsoft.com/en-gb/services/synapse-analytics/
The new limitless analytics service bringing together data warehousing and Big Data analytics.
The keynote talked about developments in autonomous systems, and introduced Project Silica and Quantum Computing.
Introducing Project Silica
https://www.microsoft.com/en-us/research/project/project-silica/
With the increasing volume of data, Microsoft's Project Silica is looking for the next game changer in data storage. Using femtosecond lasers to etch data into quartz glass, this is the frontier of new storage systems.
Introducing Azure Quantum
https://azure.microsoft.com/en-gb/services/quantum/
Continuing to push the frontiers of computing, Microsoft introduced Azure Quantum Computing. Quantum computing has the power to help solve some of the world's toughest problems, quickly, and Microsoft have developed the Quantum Developer Kit to make it easy to get started.
Trust
https://www.microsoft.com/en-gb/trust-center
Trust is about privacy, responsible AI, and security.
The total cost of Cyber Attacks last year was $1 Trillion, and it was Small SMBs and consumers that were most impacted.
Microsoft offer comprehensive security in one integrated architecture, offering consistency and defence in depth.
Developer Tools
https://www.microsoft.com/en-gb/download/developer-tools.aspx
Microsoft got started by building developer tools. Today, 61% of openings for developers are outside of the tech industry.
Microsoft mission is still to build the best, most complete tool chain for developers, which include:
Visual Studio
Azure DevOps
GitHub
Power Platform
https://powerplatform.microsoft.com/en-us/
Microsoft believes in empowering Citizen Developers and the Power Platform offers low code, no code tools to build out applications.
There are already 2.5 million citizen developers using the Power Platform, and it is predicted that there will be 500+ million new apps by 2023.
The keynote saw the announcement of two new members of the power family, Power Automate and Power Virtual Agents.
Power Automate
https://flow.microsoft.com/en-us/
Microsoft Power Automate (previously called Microsoft Flow, but now with new improvements) is a versatile automation platform including seamless integration with apps and services, and a new robotic process automation feature.
Power Virtual Agents
https://powervirtualagents.microsoft.com/en-us/
Microsoft Virtual Agents brings language understanding and conversational capabilities to the Power Platform, allowing you to easily create and maintain bots.
Power Virtual Agents combined with Power Automate UI flows means you can incorporate all existing systems, even where there is no API.
Microsoft 365
https://www.microsoft.com/en-gb/microsoft-365/business
Microsoft 365 is Microsoft's modern work portal for empowering knowledge workers, and first line workers.
It can take 25 minutes to get back on task when multitasking, with a 40% productivity loss. In Satya's words "human attention is scarce".
This is why Microsoft 365 are building The World's Productivity Cloud with Microsoft 365. They're putting people at the centre, starting with device innovation, and infusing of AI into every experience.
Microsoft Teams
Microsoft Teams is the hub for teamwork, incorporating chat, meetings, and collaboration, as well as business process.
It continues to grow in popularity, and ignite has seen the announcement of lots of exiting new developments, including:
Private channels now generally available
Multi window chats enabling users to pop out chats
New integrations into Yammer and Outlook
Announcing Project Cortex
https://resources.techcommunity.microsoft.com/project-cortex-microsoft-365/
The next step forward in Microsoft 365 is knowledge. Creating the most valuable data about your people, their relationships with other people, their expertise, and converting it into knowledge that accrues on a continuous basis.
Project Cortex will be your knowledge network in Microsoft 365. It will take data inside your organisation and convert it into knowledge. Bringing together the power of the Microsoft Graph with AI, people, content, and apps into an interactive knowledge repository.
What's new across Microsoft 365 and Surface
The keynote looked at some of the latest innovations in Microsoft 365 which aim to help you unlock productivity across your organisation.
These included:
Microsoft Stream's Voice Enhancement feature – Using AI to drop out background noise from videos.
The Surface Pro X – The thinnest two-in-one ever, which charges whilst docked in the new signature keyboard.
The Surface Hub 2S – A 4K+ resolution screen that is perfect for team collaboration and is now mobile.
Eye Gaze Technology - uses AI to correct the direction of your gaze during video calls, and is supported on the Surface Pro X.
Custom Teams Backgrounds – Set a professional background during video calls, no matter where you are.
Intelligent content capture – With a Teams room dedicated whiteboard camera, AI detects the edges of a whiteboard, zooms in, and even makes people transparent!
AI and Voice with Outlook – Using Microsoft search with natural language.
Image to Table - Capture images of information with your camera and Office AI will recognise a table, analyse it, and convert it into an Excel table for you.
Fluid Framework – Previewing in just a few weeks, Fluid breaks documents down into component parts that can be collaborated on in real time, across different applications.
And finally, next year, there will be the release of a new category of dual screen devices:
The Surface Neo with 2 x 9inch screens running Windows 10 X
The Surface Duo with 2 x 5.6 inch screens running Android
Edge and Bing
Microsoft are going to innovate across Edge, Bing, and Search with a goal to bring you the best browsing and search capability, to deliver the best experience on the web.
Introducing the new Microsoft Edge
With a new release generally available on 15th January, Edge will now be released separate to the Operating System and will run on all platforms (iOS, Android, Mac etc.).
The Chromium browser will allow Microsoft to deliver world-class performance and compatibility with the new Edge being twice as fast, and rivalling Google Chrome for performance in rendering web pages, as we;; as offering perfect match compatibility on websites.
With other innovations around performance, compatibility, and privacy, and collections, the new Microsoft Edge has a lot on offer.
Uniting the Internet with the Intranet
Providing the ease of surfing the web, with the power of your own data. Bing will provide links to information inside your company, as well as on the web.
76% of data in companies is unstructured data, and Bing can now be used to search this data, including Power BI dashboards, and People.
And one last thing, get ready for Minecraft Earth!