On the 21st April 2020, Microsoft are renaming some of their core products. This follows the launch of their 'Microsoft 365' product range last year and brings their core product offerings in line with this naming convention.
What's not changing
Neither the price nor the features included with each bundle are being changed. You'll still get everything you had before, for the same subscription cost.
Some of the names will switch between Premium and Standard (see chart, below), but the contents of the packages will remain as they were before, so you don't have to worry that anything is being downgraded - Microsoft are simply standardising their naming structures.
So, what is changing?
"Office 365 Business" subscriptions are becoming "Microsoft 365 for Business" subscriptions. This includes Office 365 Business Essentials, Office 365 Business Premium, and Microsoft 365 Business.
Desktop client subscriptions (Microsoft Office) are becoming Microsoft 365 Apps subscriptions. This includes Office 365 Business and Office 365 ProPlus.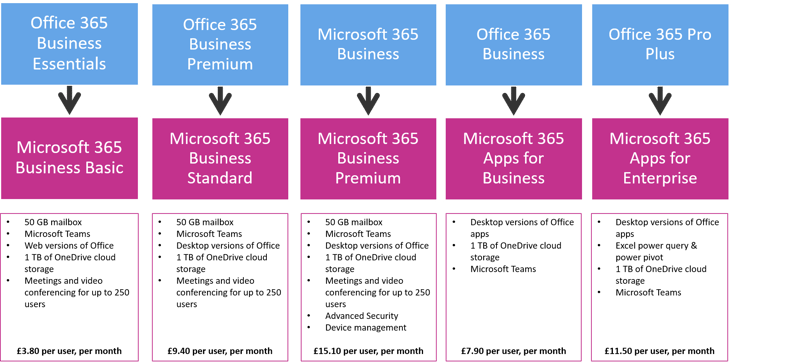 The changes will take place on the 21st April.
You don't have to do anything at all, you'll simply see the new name on your invoices.
More info
Microsoft have published a blog on the subject if you'd like to learn more and you're always welcome to get in touch with us if you have any questions.