I have to start this by stating that SpiderGroup are a Microsoft partner - so we spend a good deal of our time working with Azure and less so with AWS. This means I can't claim to be completely unbiased, but hope that I can still present a balanced view of why you'd choose to use Azure or AWS.
But first, let's recap, Azure and AWS are Public Clouds. A Public Cloud is a data centre hosted by someone else in which you can rent resources to host your workloads. If you want to learn more about the Public Cloud, why you should consider it at all, and Azure in particular, have a read of this recent post.
Assuming that you know what Azure and AWS can do for you and, more importantly, you want to take advantage of that, here's some help choosing between them...
Trust
You may already be aware that Azure is Microsoft's cloud platform and AWS is Amazon's. Your experience of either company and their reputation in how they protect your data and handle your privacy may, and probably should, factor into your decision on which company you want to use and put your trust in.
The US Defence Department recently awarded their $10 billion pound contract to Microsoft so that's a positive sign but plenty of companies already trust Amazon to handle their data too.
Neither company has flawless records but both meet dozens of worldwide standards that require strict ways of working and independent audits. Perhaps the company you trust the most is a personal choice.
Security
Trust leads us nicely to security, but there are two elements to consider when it comes to this area - areas that are the provider's responsibility, and areas that are up to you to manage.
Physical security and hardware are covered by whichever cloud provider you choose - and things are pretty much the same across Microsoft and Amazon. They protect their premises with various security measures, to prevent incursions. They also keep hardware updated and patched to make sure there are no inherent vulnerabilities that could be exploited.
But once we get to the software side of things, security is really your responsibility. Hosting things in the Cloud doesn't mean you aren't responsible for their security - if anything, it means you have to be even more aware of your security measures.
Both AWS and Azure provide ways to ensure your workloads remain secure, but the implementation and use of these is, in the main, up to you.
Security isn't really a defining factor between providers.
Scale
Amazon and Microsoft both have worldwide reach and both are expanding, but at this time Azure is in 54 regions worldwide whereas Amazon has only 22. If you want global reach with great regional performance, then Azure seems the obvious choice here.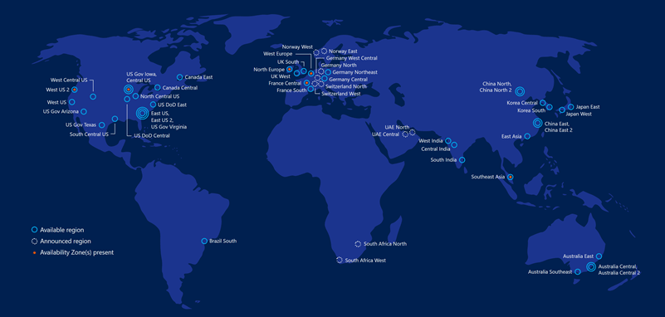 Both have a presence in the UK and Europe, though, so this may not be something you need to factor into your decision at this stage.
Reliability
It depends who you ask and where you look to determine which provider is the most reliable. It's proven difficult to compare them due to different ways of reporting outages and the different scale and array of services on offer.
It is fairly consistently reported, though, that Amazon has a better uptime record than Microsoft. That's not to say Microsoft's is bad, but it's certainly not looking as good. Reliability is a really big factor for most businesses when deciding where to host their services.
If absolute reliability is critical for your business, using either Azure or AWS alone could be a poor choice. Perhaps both or a Hybrid Cloud (more on that later) would be a more robust strategy to meet your needs.
Services
Can you do more in AWS than Azure or vice versa? Both providers are developing more and more solutions, including AI, Big Data and analytics. Ultimately, you can host whatever you like in either but Microsoft do have a few aces up their sleeves here.
Microsoft's USP
Many businesses use Active Directory, Office 365, and Microsoft licensing and Microsoft can use this to their advantage.
If you're an Office 365 user, you are already using Azure Active Directory so it can be attractive to utilise this to manage the other services you host in Azure, doing away with additional Domain Controllers and enabling you to have fewer passwords to remember.
Many of Microsoft's services integrate with Azure AD including any local active directory you have on premises. That's not to say integrating in a similar way with AWS isn't possible, it is likely to cost you more though and require more setup time.
You can also save money when using Azure through the benefits of having transferable licence usage rights, allowing the use of existing licensing.
Why not both? Or neither?
If you're looking for really great uptime or just looking to get the best deal, it can be worth considering both Azure AND AWS. You can have services hosted on both platforms and, in the event one has a problem, fail over to the other.
Or, you could just go with the approach of choosing whichever is cheaper to host the workload in question in the required region. Costs vary on both from region to region.
You may also consider using one of the big Public Clouds on your own on-premises equipment, with a smaller provider for disaster recovery or backups.
You don't have to put all your eggs in one basket!
And what about GCP?
I haven't forgotten about Google's Cloud Platform, it's certainly an option but not quite in the same league as AWS or Azure - yet! It does have some specialisms like deep learning, AI and machine learning so is worth considering if you're focused on these services, but the jury is still out on this one.