There are times when email just doesn't cut it in today's fast-paced world of work.
Whether we spend our free time on WhatsApp, Facebook Messenger, Discord or something else completely, most of us are used to pinging messages back and forth in seconds. Messaging apps making their way into the workday was inevitable.
However, the choice of which app to use as standard in the office can be a difficult one for SME businesses. Not only may you be more restricted by pricing than large businesses, but the choice may have a larger impact. The messaging app you choose will frame many of your day-to-day conversations and the choice of tools can change the way you collaborate with colleagues.
As such, your choice of messaging app will likely have a tangible effect on your company culture, and building culture has a vital role in building your business.
In this article, we'll be covering the features, usability, and pricing of three different platforms, so you can make the best decision for your business.
Why use a messaging app?
While keeping on top of your email inbox can be a chore, responding to one line reminders or questions from colleagues often feels a lot more manageable. By doing away with the level of formality, which is often still expected in email, messaging can also often save time by getting right to the issue. Email is still king for longer or more secure communications but, otherwise, messaging has many advantages.
In recent years, many messaging apps designed for the workplace have also incorporated useful tricks, such as the ability to seamlessly share and collaborate on documents, or switching to a video call in just one click. Not only that but, unlike many personal messaging apps, most boast the capacity to host large virtual meetings or share files through the cloud.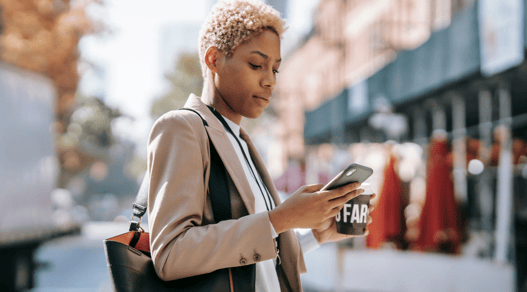 This was invaluable during the time so many of us were working from home, and continues to be useful as many businesses commit to making the workday more flexible. With messaging apps, it's easier to check in with colleagues while on the go or in the minutes between meetings. Instant messaging also has a friendliness that can help to maintain bonds with those working in different locations or on different schedules.
With all of these benefits to messaging, the only real question is – what messaging app is the best fit for your company? As is often the case when selecting your tech stack, there's no one size fits all. Likely your choice will depend on your unique company culture, along with what incorporates best with your existing software, and what feels the most useable for your team.
Microsoft Teams
The Good

Full disclosure – we use Microsoft Teams at SpiderGroup. We also sell Business Voice for Teams when companies we work with are looking for a reliable VOIP system. However, we are far from the only ones. According to Statistica, there are almost 200,000 company users of Microsoft in the UK. It's the business standard, and it has stayed there over the years for a reason.
Microsoft has its finger on the pulse with its messaging software. On a basic day-to-day level, it's very easy to use. Along the sidebar, you can easily click between individual chats, group chats, and a library of every file that's been shared with you over the platform. Once you've mastered the basics, you can dig a little deeper and find a wealth of tools that make life so much easier.
For example, the chat function itself allows you to do everything expected like attaching files, GIFs and meeting links. However, it also has some nifty integrations, like being able to search and add YouTube tutorials, pin files, or add live task lists anyone in the Team can add to. If you can't find exactly what you need, the list of integrations can be extended further through the plugins library.
There are a few caps when it comes to audio and video meetings, particularly in the free version. However, the number of participants allowed is still generous compared to its competitors and should easily cover most mid-sized businesses.
The Bad

You definitely get the best out of Teams when your business uses Microsoft tools as a general rule across the business. If you're committed to a different suite of software like Google or Zoho, Teams might not be the best fit for your tech stack.
While Teams has a lot of good features regardless of the other software you use, you won't get the effortless ability to work on documents and spreadsheets within the platform if you're not a Microsoft ecosystem. You may see some disconnect when it comes to assigning tasks and putting items in your calendar through Teams if you don't use Outlook as your email service.
The Price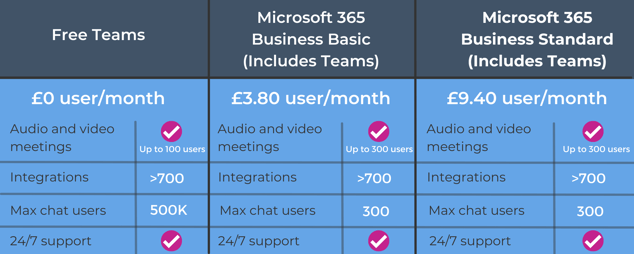 You can get Teams for free on its own, or buy it as part of one of the Microsoft 365 Business Packages (starting at £3.80 per user per month).
The free version limits meetings to 60 minutes and doesn't enable video recordings. The productivity and security features are also less impressive than the paid version. However, it covers all the essentials well and comes with web versions of the Microsoft Office apps for quick collaborations.
Slack
The Good

On the surface, Slack looks very similar to Teams. Instead of group messages being Teams, they're Channels. Instead of 1-2-1 "Chats", there's Direct Messages. However, your messages are organised in a way that feels closer to a classic email inbox – with unread messages gathered together- which may be more intuitive for some.
Slack was initially created for and by a group of software engineers, and still has many fans within the tech world. Its central hub works well for reviewing code, you can set up bots and automations, and it's a very searchable platform, making it difficult to lose anything that's been shared with you.
Another upside to Slack is that it's extremely customisable. It has the most integrations of any messenger platform, including Google Suite and Monday. You also have a wide choice of themes to use for the main interface to make the software more personal to each user.
The Bad

It's quick to get Slack started up, but this does mean it can lack the security that Teams has right from the start. The platform also comes second to Teams when it comes to sharing large files (Slack's standard file limit is 10 GB to Teams' 250GB).
Unless you use specific integrations, Slack additionally has fewer text formatting options than Teams, which can limit users' ability for expression or organisation through messages alone. If you need to switch to video, Slack has improved its quality over recent years, but still can't match the quality of other platforms and has a strict limit on how many people can join group calls.
The Price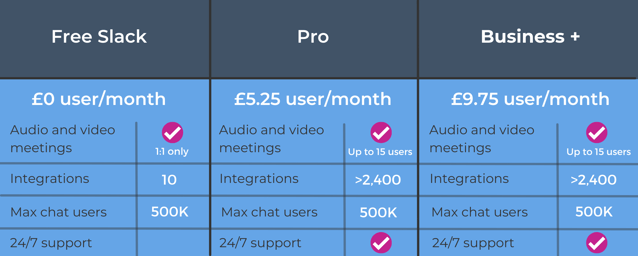 The free version of Slack enables messaging, file search, 1-2-1 calls, and 10 useful integrations. To unlock features such as huddles and the full integration library, you will need to invest in one of the paid options. These currently start at £5.25 per user per month.
Twist
The Good

By the makers of ToDoList, Twist uses the standard chat and channels set up, but with a few differences. Twist is built around the idea of replying to messages as and when you have the time, avoiding the pressure to be "always on". You may be interested in this if your business invests in helping your employees to effectively balance their work and outside life.
To help with this, there is no indicator for others of when you're online and different channels are often focused on working through and completing specific tasks, rather than used for topics or teams on an ongoing basis.
Some cool features come out of this concept. When your team have come to a conclusion on a problem, you can add a conclusion, mark it as "complete" and watch it disappear from your inbox. If anyone wants to take a deep dive into how you came to that conclusion at a later date, you can easily link to it rather than rehashing.
To an even greater degree than Slack, Twist also borrows from a classic email inbox - complete with subject lines. While this is done to create slower, more thoughtful discussion, it may also deplete the advantages of instant messaging.
The Bad

Twist doesn't have an audio/video call feature at present. While you might already have this covered by Zoom or one of their competitors, it does make for less of an all-encompassing communication experience.
While the pressure to reply to messages ASAP isn't exactly relaxing, it is necessary in some fast-paced industries. As such, this platform won't be for everyone. Twist also has fewer integrations than Slack or Teams. While this creates a calmer experience, it limits functionality.
The Price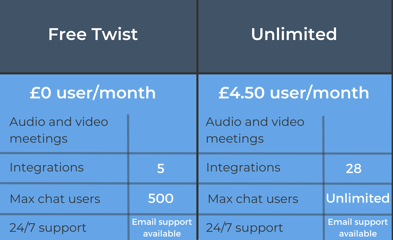 The free version of Twist includes most of its features, just with a few limits. The limit that is the most likely to have businesses reaching for the paid version is that the platform only allows you to view posts or comments made up to a month in the past.
Upgrading to the "Unlimited" package (£4.50 per user per month) gets you better support, unlimited file storage and access to your entire history of messages.
In Conclusion...
Microsoft Teams is an excellent all-rounder, and is especially great for Microsoft users. It has the best video chat and sharing features. It also has the most affordable starting price of all the paid options.
Slack is a fully-customisable knowledge base for your team, with impressive integrations. If you know your team want to take the time to set everything up to be perfectly personalised for purpose, it could be right for you.
Twist is for slow-paced, thoughtful discussions that stick to the topic at hand. This kind of focus will be beneficial for some industries, but not others. Those using Twist will also require a separate platform for video or audio capabilities.
If you would like any further guidance in choosing communications tech for business, we'd love to chat. SpiderGroup specialises in helping businesses grow through digital tech solutions. Pop in a meeting with one of our team here.