In January 2020, Microsoft will end support for Windows Server 2008 and 2008R2. In addition, support for SQL 2008 and 2008R2 ended in July this year.
That means the end of regular security updates - don't let your infrastructure and applications go unprotected by not acting before it happens.
Many businesses are taking this as an opportunity to review their server workloads and consider moving them to Azure.
End of support doesn't have to be a bad thing - look at it as an opportunity to embrace the power of the cloud, enhance performance and improve reliability. You could even end up saving money!
Three reasons to consider Azure
Innovate: Take advantage of cloud to modernise your applications. Using fully-managed services such as Azure SQL Database, Azure App Service, and Azure IaaS, you can focus on business innovation.
Save money: Reduce infrastructure costs with Azure Hybrid Benefit and free Extended Security Updates on Azure virtual machines. Save up to $750,000 when you migrate one hundred 2008 servers to Azure.
Enhance security and compliance: Strengthen your security posture with Azure. Counter sophisticated cyber threats with Azure's secure cloud foundation and benefit from more than 70 compliance certifications. Help protect the 2008 workloads you move with free Extended Security Updates for 3 more years after end of support.
If you want to understand Azure a bit more and all that it offers try our recent blog article which explains all!
How to approach your migration
Assess
Take a look at the workloads you're running now. here is it? How old is the hardware? Is it using soon-to-be end of life software?
You can use tools like Azure Migrate and Microsoft Data Migration Assistant. The TCO Calculator can be a handy tool to estimate savings when moving your workloads to Azure.
The output of the Assess phase should be a list of items you've discovered, and ranked according to business impact and value. This should allow you to to prioritise the systems you need to migrate. You need to gain a good understanding of the applications you need to migrate, the architecture they need, and any dependencies. Engage your software and platform IT support teams, they'll have some thoughts!
Some of the questions you'll want to ask include:
Which applications can migrate to Azure and which should remain on-premises?
How do you handle the services used by each application? Can they be split across on-premises and the cloud?
Are there dependencies between applications that will influence which ones move, or will impose constraints?
What is the expected impact on the network?
Will the migration require changes to how to authenticate and authorise user access?
What databases do the applications depend on and where should they be located?
How will a migration to Azure affect budgeting and costs?
What are the options to stay compliant as Windows Server 2008 and 2008 R2 workloads near end of support?
What are the risks/benefits of moving the applications?
Once you've worked out what needs to and can migrate it's time to you need to think about the approach.
Some applications may need to stay in your office for performance or specific system or security requirements, they'll just need to be upgraded.
Others, you could take the opportunity to rebuild, delivering new features and performance improvements and solving some of those long standing problems.
Lastly, you could simply rehost it to Azure but on a newer, supported server.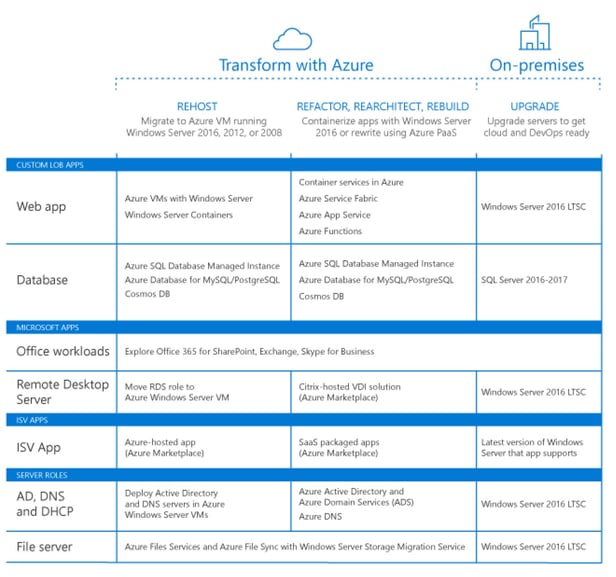 Migrate
Once you've settled on the best approach, and worked out the costs, it's time to get on with your migrations.
Give yourself plenty of time and ensure everything is thoroughly tested before going live. Take the opportunity to make sure everything is set up according to best practice and security is at the core of all your decisions.
Involve your application support teams and IT support teams - they'll be able to guide and assist you and help you identify any issues before they catch you out.
And most of all, make sure you have tested, redundant backups, just in case anything does go wrong during a migration. A good roll back plan is important as even the best planned migration can hit a stumbling block and it's good to give yourself the opportunity to pause and re-think things.
Optimise
The final phase, this can be where you really start to see the benefits. Hopefully by this point some of your applications have made their way into Azure and it's time to explore this new world some more.
Things like cost savings, increased efficiencies and reduced capital expenditure. You can also start to explore things like machine learning and AI which just weren't possible on your own platform.
You can experiment, innovate and, where necessary, fail fast without any big outlay in time or cost.
Now is a good time to consolidate what you learned during your cloud migration or on-premises upgrade. Most organisations take an incremental approach to migration, starting with a few small or simple workloads to help them understand and master the technology and business issues, then progressing to larger and more complex workloads. Each workload presents an opportunity to reflect on learning and improve your Assess phase for the next migration.
Getting Started
We've included some useful resources below, which should help you with your move to the Cloud.
Try free Azure hands-on labs to acquire cloud skills and become more familiar with how it all works.
Create your own Azure account, not only does it only take a minute but you get £150 to play with, too!
Check out the Azure Migration Centre for more help.
Speak to us - one of our Azure certified engineers at SpiderGroup will be very happy to assist
Read our blog to learn about how Azure can help your business

.