Full disclosure, at SpiderGroup we're using both Microsoft Teams and Zoom. Both systems have their strengths and weaknesses. And plenty of businesses right now are trying to figure out which one is most suitable. So, using our experience of both, here's the lowdown.
What's right for you?
Zoom and Teams are not the same, Zoom is an excellent, fully featured online conferencing system. It does a really good job at this and is very easy to use, too.
Teams, on the other hand, is a full business collaboration, conferencing, and communication system. It lacks some of Zoom's advanced meeting features but more than makes up for that in other areas.
Which is why we use both. Teams is fully embedded into the business as part of our Office 365 implementation - it allows our teams to collaborate and communicate on a day to day basis. Zoom comes into its own when we're doing things like AltNet, our online virtual networking and for all-staff meetings where it's important to see everyone's faces.
If you're having to choose for your business, go back to your requirements, and see which ticks the most boxes.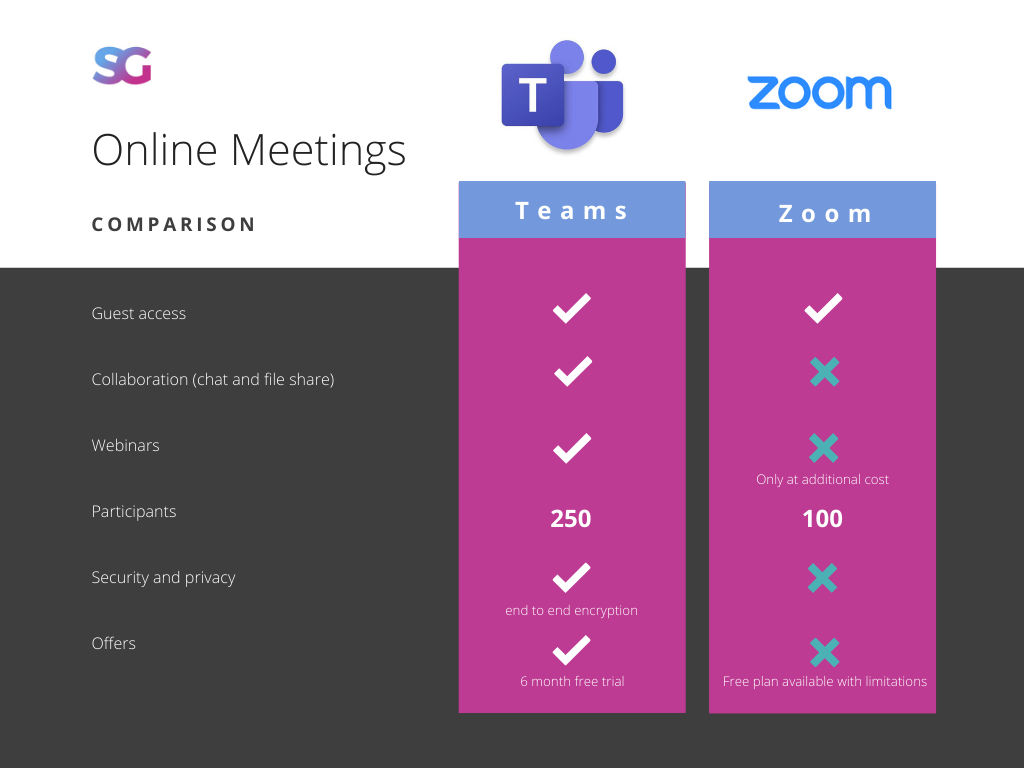 Security
Zoom has been in the media for all the wrong reasons over the past week, its user base has grown enormously and therefore their solution has come under a lot more scrutiny. Lacking end-to-end encryption and having open meetings as default has caused issues for some businesses and given pause for thought. Google, for example, have banned its use until the security issues are resolved.
If security is key for your business, you should use Teams. Microsoft's system uses end-to-end encryption and supports two factor authentication. Through policy control you can lock down who can join meetings and collaborate.
Zoom still has its place, it's just not the place to be discussing confidential business plans! "Zoombombing" takes a variety of forms, including using disturbing imagery, so be careful when setting up meetings with vulnerable people and young people.
Getting started
We can get you setup in Teams in no time, and Microsoft have provided a 6 month free trial for up to 1000 users.
To help your staff get to grips with it SpiderGroup can provide online training too.