Microsoft 365 (formerly known as Office 365) is a hugely powerful business tool. It goes far beyond Word, Excel, and PowerPoint these days, with a whole lot of systems and integrations to help streamline and improve your business processes.
In fact, it's got so much to it that we recently ran a webinar discussing how best to use Office 365 for collaboration.
Extensive collaboration
As we discussed in our webinar, there are tonnes of ways to collaborate using 365. It starts with Microsoft Teams, a hub of communication, file sharing, teamwork, planning, and conferencing. You can integrate pretty much every other app in the 365 suite into Teams to make sure everything you need is available in one place.
For instance, you can set up Teams meetings, see you calendar, take meeting notes, capture actions, and create a planner, all in the same place - so everything is connected, and everyone in the meeting has access to everything they need.
With simple sharing of documents and files, you can have multiple people collaborating on the same file at once, so there's none of the back and forth with millions of different versions.
Top tip: when setting up a meeting in Teams, you can see Suggested times (just under the time picker) based on the availability of you and the attendees you're inviting - so you can easily pick a time that suits everyone.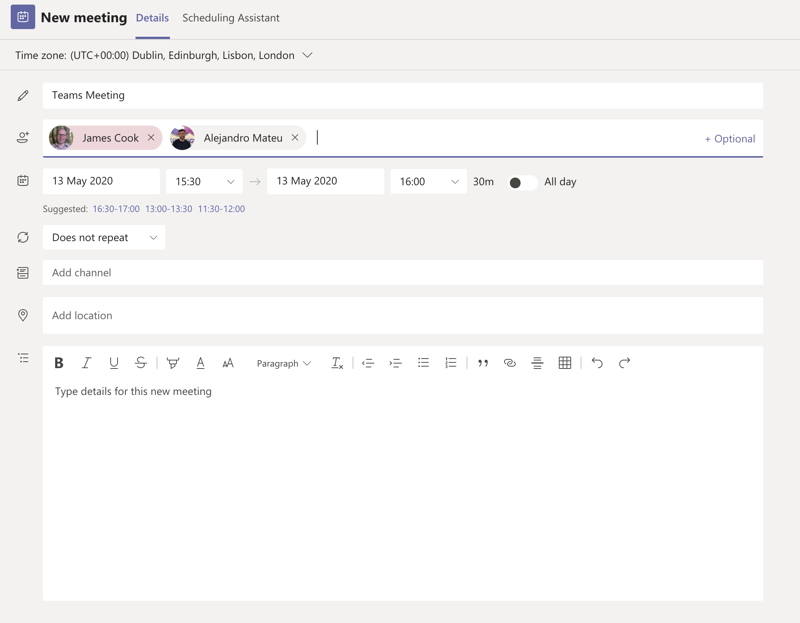 Latest Office apps on up to 5 devices
How many devices do you use? I know I've got a phone, laptop, and a tablet. In fact, I actually have 2 laptops - work and personal - and occasionally need to do some work on my personal one.
Luckily, with the right licence, your application subscription allows you to install all of the Microsoft 365 applications on up to 5 devices.
Having the apps across all of your devices means you can work in the way that best suits you. Our CEO, for example, uses OneNote on his iPad to take notes while in a Teams meeting on his computer. He can send me those notes direct from the iPad and everything is synced pretty much instantly.
In fact, thanks to OneDrive, it doesn't matter what device I use, I can always access everything I need to, and it's always the right version, no matter where I open it. Which, in today's world of multiple apps and (global lockdowns notwithstanding) working on the go, is pretty much essential.
If you want to know more about licensing, and find out which would be best for you and your business, let us know and we'll be happy to help.
In-browser Office applications
In addition to installing Office on 5 devices, Microsoft have developed versions of the office applications that you can use directly in your browser (Chrome, Firefox, Edge, Safari, etc).
They are generally less featured than the full Office applications, but if you need to jump onto a friend's laptop without Excel to bring up a spreadsheet and make a change, you can. You can even share your office documents in browser with others using OneDrive.
Not only that, when you share a file on Teams, you can edit that file within the Teams app or choose to open the desktop version. For quick edits, staying within Teams is perfect - you can share a document, ask for quick input, have everyone add their comments/edits, and no one has to even open another application.
The in-browser applications sometimes have slightly different features. For example, I colour-code my diary, so I can see at-a-glance what type of activity I've got coming up. We share our calendars internally, so everyone has access. If someone uses the desktop Outlook, they won't see my colours, but if they use the web version they will.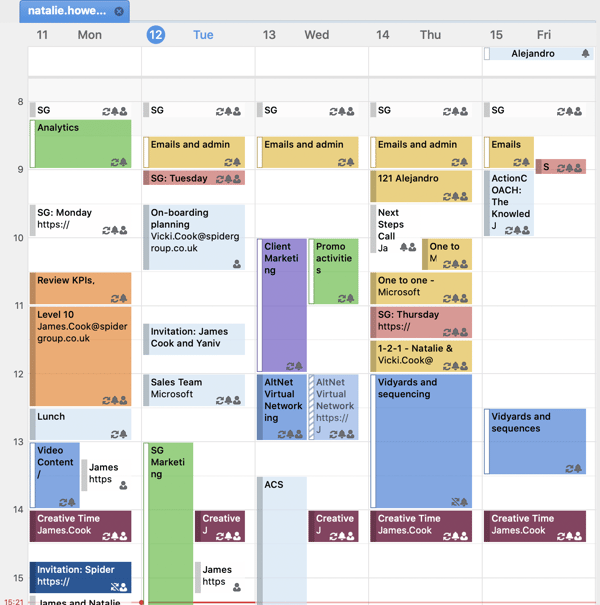 It's worth having a play with both versions and seeing which one you prefer. For a lot of people, it depends what you want to do, but see what works best for your style.
OneDrive
With Business Premium, you get 1 TB (that's 1024 GBs!) of cloud storage. You can use this for backing up your devices and/or business documents. We use OneDrive for all of our file storage - so we never have to worry about what happens if a laptop suddenly experiences a catastrophic failure. We know everything is saved centrally.
It's easy to browse your documents online or share with other people. There are OneDrive apps for iOS, Android, macOS and Windows. All of the latest office applications also support directly saving onto OneDrive.
Syncing your files is extremely easy - you don't have to go online to find your documents, you can sync folders direct to your device and access them the same way you'd open documents saved locally.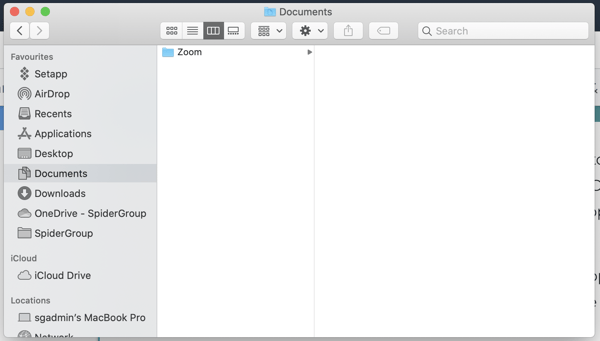 As you can see, I have 2 folders that are synced - OneDrive - SpiderGroup is my personal files, and SpiderGroup contains my synced files from our central cloud storage. The best part is that I can be selective about what I sync, so I don't have to scroll through everything, and I can choose whether to sync on demand or keep everything updated whether I've opened it recently or not.
SharePoint
A little known feature of Office 365 is the ability to create your own SharePoint website, which is both an online document storage system similar to OneDrive and your own website/wiki builder. If you want to share information in an easy-to-use web portal between staff, this may be the solution for you.
We have an extensive intranet built through SharePoint, with different hubs for each department, as well as a SpiderWay section detailing all of our policies, processes, and procedures in one, easy-to-find place.
You can also post updates to your site - almost like an internal blog or newsletter - to keep all your updates in one place and make it easier for people to find them whenever they need to.
We have years of experience with Sharepoint and offer specialist Office 365 support in Bristol and across the UK.