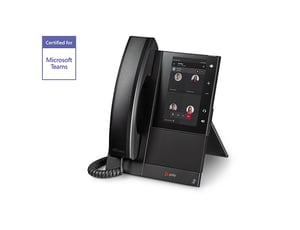 Microsoft Business Voice for Teams includes all the features your business needs for a fully featured cloud hosted phone system and is available now with a 25% discount.

Normally priced at £12 per user, per month but currently available for £9 per user per month. The discounted pricing lasts for 12 months from the date applied.
This offer is only available until the 31st January 2021 and only applies to customers who are not already using the Microsoft Teams Phone system. Conditions apply.
Find out more about Microsoft Teams and get in touch today.
More about Microsoft Teams Phones
If you're thinking this couldn't replace your current phone system or lacks features you need, think again....
Teams app which works across all platforms, including mobile devices, allowing you to answer the phone from anywhere and any device.

Cloud auto attendants - create a menu system allowing callers to route to the correct user/department

Music on hold - play music or other messages when the call is on hold or queuing

Modern desktop phones - you can still have a proper phone on the desk where needed

Call queues - can be configured in multiple ways to route calls and overflow as required

Call forwarding - route calls to colleagues or voicemail at the click of a button

Group call pickup - your incoming calls can also ring your colleagues

Consultative transfer - transfer to a colleagues or even another device if you need to be on the move

Transfer to voicemail mid call - not sure when you'd want to do this, but it's an option!

Call park/retrieve - calls can be parked in the cloud and retrieved by another device or user

Caller ID - including caller ID masking

Presence based call routing - only receive calls when you're not busy

Video calling and conferencing

Cloud voicemail - users can configure settings and record their own greetings easily. Voicemails can be retrieved from any device

Busy on busy - various options for when you're already in a call

Call blocking - users can block specific numbers easily

Call recording - record calls on demand
Teams does lack a few features like automatic call recording, call centre features and decent reporting so it's not a perfect fit for all businesses. SpiderGroup has been using Teams as a phone system for sometime and find it works really well for the business. It was particularly helpful when we all needed to transition to working from home recently as it's completely cloud based.
Find out more about Microsoft Teams and get in touch today.