One of the earliest decisions you make when starting a business is which service provider to use for your professional emails. This is a choice you may want to revisit over time, as your needs change and your business grows. But have you looked at every option out there?
It's tempting to only turn your attention towards the biggest brand names, but some of the lesser known providers offer a competitive range of features, or specialise in a particular niche, and may match your requirements best.
What features do I need from my email provider?
This varies considerably depending on the type and size of your business. In broad strokes, though, you should consider taking a look at the provider's:
Security Features

Usability

Mailbox Storage size

Spam blocking system

Sending Size Limits

Pricing plans

Support Services
It is also worth checking if the provider allows you to use custom domains and whether all of your employees will be able to easily access it on their devices (icloud mail, for example, does not have an app for android, although almost every other provider does.)
If you don't have a custom domain, you won't be able to send your emails from a business address (@spidergroup.co.uk, for example) – any business should be looking to have a custom domain, otherwise you risk losing a lot of credibility with customers and potential customers.
You should also consider how you want your choice to integrate with other tools you use for business. If you already use a MS Teams for communication or the calendar on Outlook to organise your routine, there are benefits to using Microsoft for your email too since these functions are built to work together.
In this article we'll outline the services of six popular providers using these parameters, helping you to make the right decision for the future of your enterprise.
Microsoft Outlook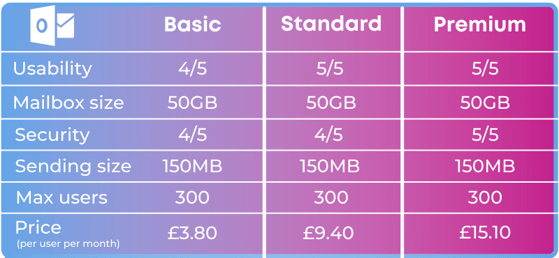 If you already use Microsoft apps like Word and Excel for business, Outlook is a great option for email – there's a reason it's been the standard for businesses for a long time. It's easy to pick up the essentials of the interface as a first-time user but, especially if it's purchased as part of a Business Premium Package, it also includes lots of handy tools, customisations and integrations you can try out as time goes on.
At SpiderGroup, we love how Outlook works in tandem with Teams and the calendar function to schedule tasks and meetings effortlessly. It also automatically sorts important emails into a "focused" inbox, which helps you to prioritise the essentials on a busy workday.
The attachment limit is a very reasonable 150mb and Outlook allows you to attach files directly from cloud storage, even from Microsoft's competitors. 50GB of mailbox storage across all packages will allow you to keep track of your communications for the foreseeable future and 24-hour support is offered both through a chat box and over the phone. All of the business packages also allow you to use custom domains.
The spam filtering works well and the security features promise over 1,000 security and privacy controls, as well as protection against malware and secure password policies. You can also choose to boost this with the Premium subscription, which offers advances threat protection and the ability to restrict who copies and saves sensitive information.
Gmail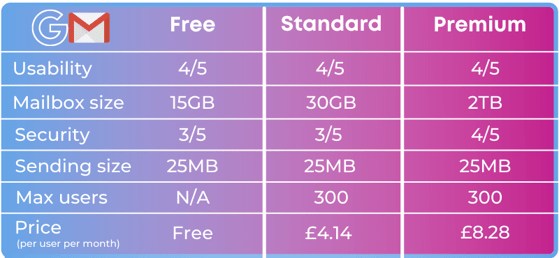 Gmail, along with all of Google's other collaboration and communication tools, is free to use, which makes this provider an appealing prospect. However, to gain access to custom email addresses, more advanced security and a professional level amount of storage space (30GB upwards), you will need to look at the paid options which start at £4.14 per user per month for the business standard package. As we mentioned in the intro, that custom domain is a necessity if you're using this for business emails.
Gmail's dynamic inbox allows you to take actions like checking your calendar and responding to comments on documents without leaving your email. Like Outlook, it effectively blocks spam, offers around the clock support and filters your mail into categories automatically. However, it's not all positives with Gmail.
For one, Google products are entirely cloud based. While the workspace does offer a range of security tools and assurances, some companies may find this too much of a risk when it comes to privacy or protecting and backing up sensitive information. Since there aren't desktop apps available, many google tools will need to have offline access enabled in advance to be able to work during an internet outage.
In Gmail specifically, there's also the controversial decision not to use folders. While there is an alternate "labelling" system for emails, this can take some getting used to for new converts. The attachment size limit is also much smaller than Outlook's, which may not be a significant issue if you rely on cloud storage but can be frustrating when sending local files.
Proton Mail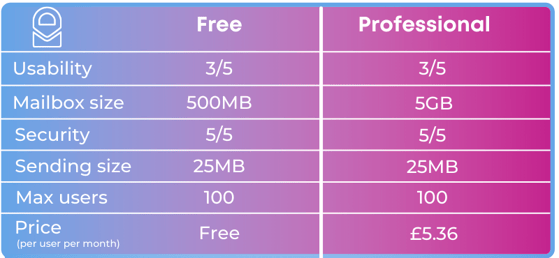 If privacy or protecting sensitive information is vital for your business to succeed, you'll want to take a look at Proton Mail.
The inbox itself is fairly basic. The free version doesn't allow you a custom domain and only offers 500MB of storage space, so you may want to use it on top of another provider rather than instead of. However, it's doing a lot with privacy that no major email provider is attempting. The service does not log your IP address, so you can sign up completely anonymously. It also offers end-to-end encryption, including the choice of using Elliptic Curve Cryptography, which ensures that no person or software has a chance to peek at sensitive emails.
Unfortunately, the end-to-end encryption doesn't work when sending to other email clients, so it may be more of an internal tool. However, it does still allow you to send password protected messages to anyone and offers some nifty features like an encrypted calendar and the ability to set expiry dates for emails.
IceWarp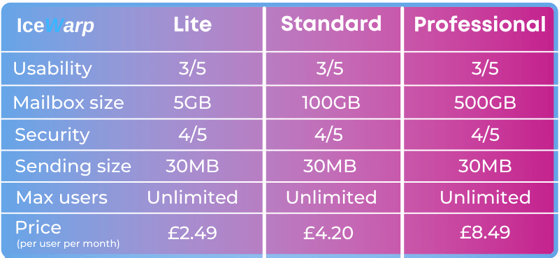 Icewarp is a brand that's been quietly gaining steam over the last 20 years. Their email service is particularly worth looking into if your company is hoping to provide clients with email accounts.
Icewarp's basic (Or "lite") service offers, well, the basics. There's archiving and a calendar, anti-virus and anti-spam, along with 5gb of email storage. Like Microsoft and Google, Icewarp also has its own suite of tools which enable you to chat with and video call team members, collaborate on documents, and create spreadsheets and presentations.
The more advanced services are where it gets interesting- their desktop client provides an interface very similar to Outlook's in design and functionality for a lower price. It also includes some very useful tools for creating and managing client emails on multiple domains, including white labelling for brand customisation.
Specifics can be hard to discover through the descriptions on Icewarp's service pages, but the impressive "Icewarp Academy" features a large amount of video tutorials for the various functions. All in all, Icewarp may not yet have quite the range of integrated communication tools that its competitors have, but this is definitely one to watch.
Yahoo Mail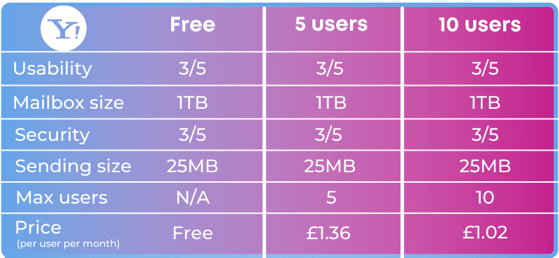 Okay, when you think of Yahoo Mail, you might think of the account your Mum made in 2002 and still insists on using, but it's still around, so we're including for completeness!
This option is definitely aimed towards small businesses specifically, as ten mailboxes is the maximum they will provide.
To start with, the free version offers a whopping 1TB of mailbox storage. While other providers will supply this, they'll definitely charge you extra, whereas it comes as a standard with Yahoo. The platform also integrates well with Facebook, which can be helpful for your marketing and service team and has a particularly advanced search function. Another nice feature is that it includes the ability to create up to 500 disposable addresses. While this may be a little more useful in a personal email account, it allows you to sample what other companies are doing with email without giving them any personal information.
You, need to pay for the business package to gain custom domains and support, along with some productivity tools and an ad-free experience. What the Yahoo business subscription doesn't yet give you is the ability to attach files directly from cloud storage or the same range of filtering tools as some of its competitors.
Zoho Workspace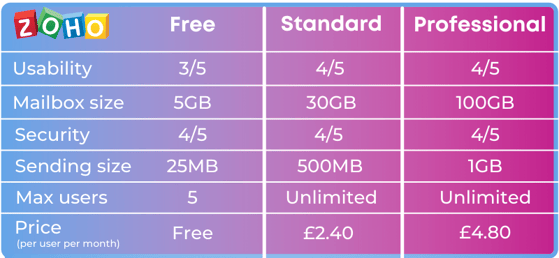 Zoho is aimed towards start-ups and small businesses, and it would be hard to argue that it doesn't offer some real advantages to these kind of initiatives.
Like Icewarp, Zoho offers its own version of Google Workspace and Office 365 - with a range of collaborative and creative tools. Unlike Icewarp, the mail-only package is free for up to 5 users and doesn't include ads. The storage size in the free service is limited and it doesn't allow you to work offline, but it does give you a custom domain and a sleek tabbed inbox that lets you easily switch between tools. Zoho is also trying to blur the line between email and chat, with the option for colleagues to send each other "stream messages" from their inbox for quick tasks and comments on client's emails.
Upgrading to a paid plan gives you a much larger range of features - including all the Zoho workspace tools - and another 25GB of storage. It also includes multiple domain hosting, video conferencing and the ability to work offline.
Conclusion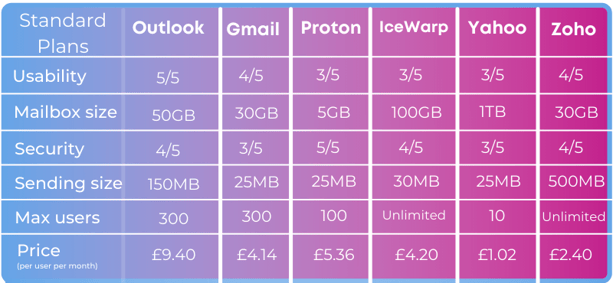 In our opinion, there are some stand out providers among the competition.
Best for medium-large businesses: MS Outlook
The mixture of usability, security and an incomparable range of tools makes Outlook a winner for us. It makes collaboration across large teams effortless and most employees have prior experience of using it.
Best for Privacy and Security: Proton
It might be better to look at Proton as an additional service rather than use it as your sole email provider but there's no arguing with its incredible encryption and privacy features. To get anything close from other providers, you would have to contact Google specifically to discuss their enterprise package.
Best for Small Businesses: Zoho
Free Zoho accounts are much more limited than they were a few years ago, but the standard package is a good deal for small businesses. While not as polished as some of the larger providers, it gives you a decent range of features and tools, an intuitive interface and some range for growth.